Prince Sultan University represented by the College of Engineering concludes the first International Conference on Sustainability: Developments and Innovations. The conference was organized and held on campus and under patronage of HRH Prince Mohammed Bin Abdurrahman Bin Abdulaziz, Deputy Governor of Riyadh Region with presence of HH Prince Faisal Bin Abdulaziz Bin Ayaf at the conference's inaugural ceremony and the opening of its accompanying exhibition.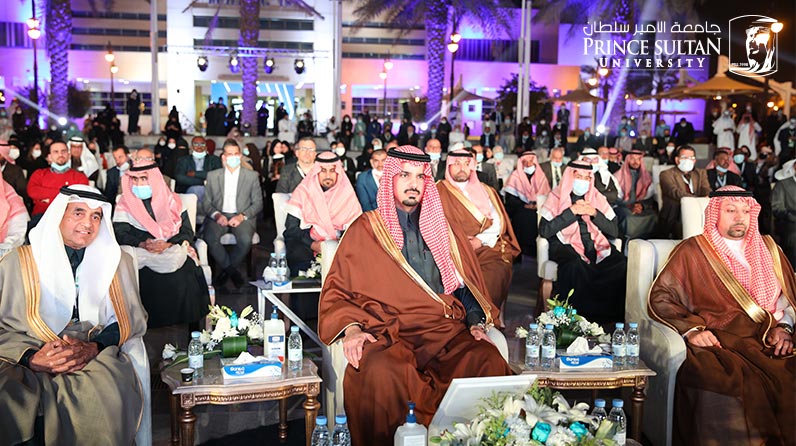 The conference commenced with an on campus ceremonial inauguration event attended by a wide variety of distinguished personalities among which are: Dr. Monir El-Desouky, President of King Abdulaziz City for Science and Technology (KACST), HH Major General Prince Adeeb Bin Saud Al-Saud, President of the Department of Weapons and Explosives at the Ministry of Interior, H.E Suhail Abanmi, Governor of Zakat, Tax, and Customs Authority, and Eng. Osama Al-Zamil, Vice Minister of Industry and Mineral Resources to name a few among many local and global guests.
Conference guests were welcomed by his excellency Dr. Ahmed Yamani, President of Prince Sultan University (PSU), accompanied by: Dr. Saad Al-Rwaita, Vice President of Administrative and Financial Affairs at PSU, Dr. Heba Khoshaim, Vice President of PSU's Women's Campus, Dr. Mohamad Aljebreen, Deputy Vice President of Academic Affairs, and Dr. Abdulhakim AlMajed, Dean of the College of Engineering at PSU.
The ceremony began musically with a performance of the Saudi National Anthem, followed by verses from the Holy Quran, and a welcoming speech by his excellency Dr. Ahmed Yamani in which he welcomed the Governor of Riyadh Region stressing the value of his attendance on behalf of the conference patron -Riyadh Deputy Governor- in spearheading the event and its accompanying exhibition, followed by an informative video regarding the conference, and its official inauguration as well as awarding its sponsors. Proceeding to the exhibition portion of the event featuring many participating entities interested in strengthening sustainability through respective subfields such as Environmental Sustainability, Sustaining Renewable Energy and Industrialization, Smart Cities, and Recycling.
(Source: Al Ekhbariya TV)
The conference itself featured many valuable participations distributed throughout a period of three days by distinguished specialists in the field of sustainability. The first day began with a lecture given by Dr. Dennis D. Truax, President of American Society of Civil Engineers (ASCE), on the important roles we as individuals could play in support of sustainability as well as approaches to adopting work ethics that feed sustainability in a positive manner, and finally ASCE's contributions to the cause. Followed by Mr. Raed Albasseet, head of the corporate environment and sustainability division of the Red Sea Development Company (TRSDC), Eng. Ziyad AlShiha, CEO of the Saudi Investment Recycling Company (SIRC), and Mr. Mark Mirza of the Fraunhofer Institute, all of whom gave informative lectures on the first of the conference. The lectures came before a rich panel discussion that preceded a student competition in conclusion of the first day. The second day began with a lecture by Dr. Adam Bouloukos, UNDP's Resident Representative, who spoke on the supportive roles of the kingdom's political stability and strong economic state and the importance of facing challenges and unifying priorities in support of sustainability. In addition to two more lectures given by Eng. Turki Bukhari, Vice President, Assets & Facilities management of the Expenditure Efficiency and Projects Authority (EXPRO), and Eng. Fahad Alajlan, president of King Abdullah Petroleum Studies and Research Center (KAPSARC) respectively. The lectures were followed by two panel discussions, various concurrent workshops preceding the gala dinner, award distribution, and concluding ceremony held that night.
Dr. Abdulhakim AlMajed, Dean of the College of Engineering at PSU, following the events of this international conference: "The College of Engineering at Prince Sultan University has made achieving sustainability a priority through its programs, research projects, and established labs encompassed in an atmosphere of institutional harmony and collaboration among all departments. An effort supporting the kingdom's goal in developing sustainability which is a pillar of the kingdom's vision 2030, and as such Prince Sultan University has organized the International Conference on Sustainability: Developments and Innovations, focusing on the fourth industrial revolution, construction technologies, environment, renewable energy, and smart cities".