Industry 4.0 Center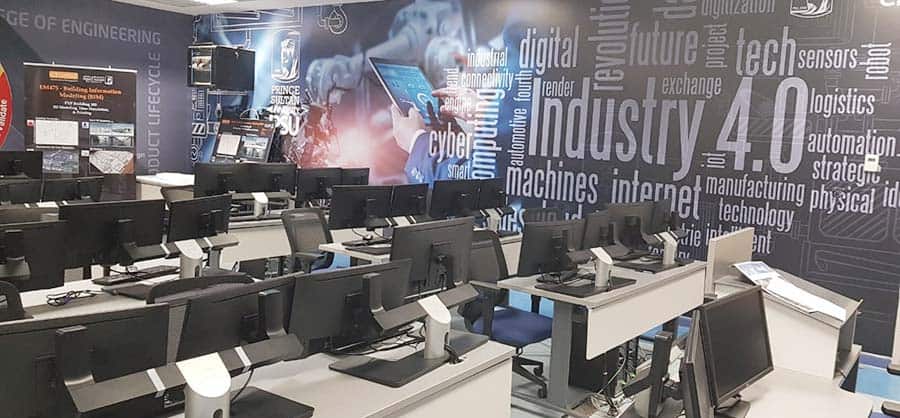 Introduction
The Industry 4.0 Center at PSU forms an interdisciplinary research center in the Kingdom of Saudi Arabia. The center with its fully dedicated staff, and together with the latest in-house technology, forms an entity that aims to assist its stakeholders in various fields such as research, training and complete product management suite. The stakeholders for the Industry 4.0 Center constitute from diverse background such as PSU internal senior researchers (to assist in digitizing, the product development process), external researchers requiring access to Best-In-Class tools, PSU students (coursework), Engineers (short courses), and Small and Medium Enterprises SME (short trainings and access to the Industry 4.0 center) and those of critical importance to Saudi Start-ups that usually need to prove the validity and design maturity of a product prior to initial Seed or Series-A capital investment.
Mission
The Industry 4.0 Center at Prince Sultan University (PSU) is established with an intention to develop a center of excellence in the Kingdom of Saudi Arabia that specializes in controlling and enhancing product development information in a secure digital environment throughout the complete product development lifecycle.
Product Lifecycle Management
PLM is basically an information management system that combines the business enterprise through data, systems and process management. The PLM software assists the enterprise to manage the information of the entire lifecycle of the product development in an efficient, cost effective and secure route starting from the product idealization to its service and later to its proper disposal.
The diverse functions and technologies that can be merged through PLM, including:
Implementing Institution Specific Workflows such as embedding ISO
Product data management (PDM)
Computer-aided design (CAD)
Computer-aided manufacturing (CAM)
3D computer-aided engineering (CAE) and simulation
Predictive engineering analytics
Mechatronic system simulation (1D CAE)
Finite element analysis (FEA)
Modal testing and general experimental and theoretical correlation
Embedding Product Manufacturing Information into Digital manufacturing data packs
Manufacturing operations management (MOM)
Courses
Siemens NX, 3D Scanning & 3D Printing Workshop Course
Digital Architecture Workshop Course: Revit, Rhino & Grasshopper
Additive Manufacturing Course
BIM Management Course
Primavera P6 Workshop Course
Green Building Certificate Course: LEED GA/AP Combined Exam Preparation Course
PMP Certification Exam Preparation Course
Events
The 1st PSU 3D Printing Contest & Exhibition
3D Printing Display Event
Additive Manufacturing Project Presentation