Talk it out Sessions
First Session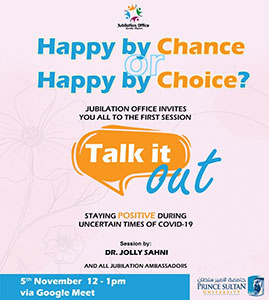 Happy by Chance or Happy by Choice?
Staying positive during uncertain times of COVID-19 by Dr. Jolly Sahni together with Jubilation Ambassadors, November 5, 2020 from 12:00 - 1:00 PM via Google Meet Online.
Check out the poster announcement
A series of 'Talk it out sessions' was initiated with the first session on "Happy by Chance or by Choice" which was delivered 5th November 2020 by Dr. Jolly Sahni, Director, Jubilation Office. She introduced the Jubilation office (Mission, Vision and Goals) and Jubilation Ambassadors to all attendees in the virtual session. She also highlighted the science behind happiness and how we can take control of our happiness and bring a positive change in our attitudes and overall PSU Culture. She presented to all PSU employees and had an open discussion in the last 20 minutes. The session was very motivating, interactive and engaging with focus on positivity in life.