Deanship Centers and Units
Academic Advising Center (AAC)
Academic advising is meant to be a supporting beam throughout a student's life cycle and to help the students develop both personally and intellectually during their journey at Prince Sultan University (PSU). Academic advising aims to facilitate students' intellectual and personal growth, enhance their academic performance, and ultimately ensure their progress towards graduation.
Academic Advising Coordinators Unit (AACU)
The assignment of the Academic Advising Coordinators Unit (AACU) is to council and assist students experiencing academic problems. AACU staff are experienced and trained to listen, advise and – when need be– route students to specialists. The Unit informs parents/guardians of the students if their grade-point average (GPA) is below a minimum set for the student's level in the PYP and university degree programs. These warnings are done to alert students and their families. Meetings are set up by AACU staff and/or specialists who will receive the students and their parents/guardians for discussions. These meetings make clear what needs to be done for the students to overcome their academic difficulties.
Alumni Relations Unit (ARU)
The Alumni Relations unit (ARU) ensures maintaining solid foundations with all PSU alumni through several methods of communication, most prominently, of which, is the alumni reunion. Additionally, the Alumni Relations unit is constantly fostering meaningful connections with the labor market, both locally and internationally- thereby ensuring a constant flow of employment opportunities.
invest in periodic activities and events to bring PSU graduates together to upgrade the sense of being PSU alums
ongoing communication and contact between PSU and its graduates
promote and cultivate the sense of the identity of being PSU alumni/alumnae
strengthen bonds between the university graduates
Cooperative Education Unit (CEU)
The Cooperative Education Unit (CEU) aligns its goals with PSU's, by supporting all Co-Op students in building a deeper understanding of their respective fields, learning how to overcome work-related obstacles, and to merge dynamically in the workforce. Some of the skills in which the unit aims to hone for students are in Preparing CVs, interview skills, proper work ethics, discipline, self-efficacy, and effective teamwork. Moreover, the CEU provides- through its extensive network- Co-Op training for all PSU students, upon finishing their required credit hours.
Educational Enhancement Unit (EEU)
The educational Enhancement Unit (EEU) is committed to the ideal that all students should have the opportunity to participate fully in all university activities. To this end, it will cooperate with departments and management to ensure that all appropriate facilities are available to accommodate all individual needs.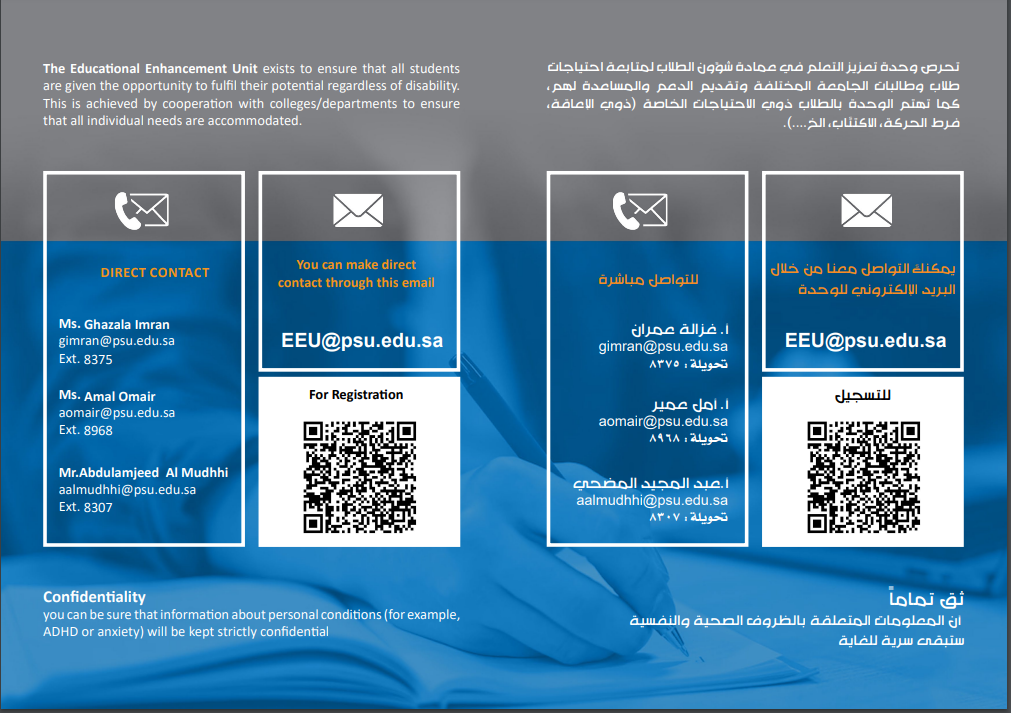 International and Minority Student Support Unit (IMSSU)
In our efforts to provide the most optimal, inclusive, and harmonious environment to all of our students; we have created the International and Minority Student Support Unit, with the following being its' objectives:
Identify the needs of all international and minority students
Meet with students regularly to gauge their level of accommodation
Prepare students for a smooth transition into our culture
Help students with familiarizing themselves with the rules and regulations of PSU
Provide a hospitable environment for all students
Host events strictly aimed at acclimating students to the environment of PSU
Continually solve and mediate any complications students will face during their educational journey here at PSU
Student Support Unit (SSU)
The Student Support Unit (SSU) offers help and support regarding social, behavioral, and psychological matters for all students. It is staffed by experienced PSU personnel and works in tandem with the Ministry of Education. Below are the service links by the SSU and the Ministry of Education
Student Services and Activities Unit (SSAU)
The Student Services and Activities Unit (SSAU) is committed to providing PSU's students with the highest grade of services and activities, throughout their academic journey. The following will pertain to the services provided in terms of extra-curricular activities, club activities and overall student services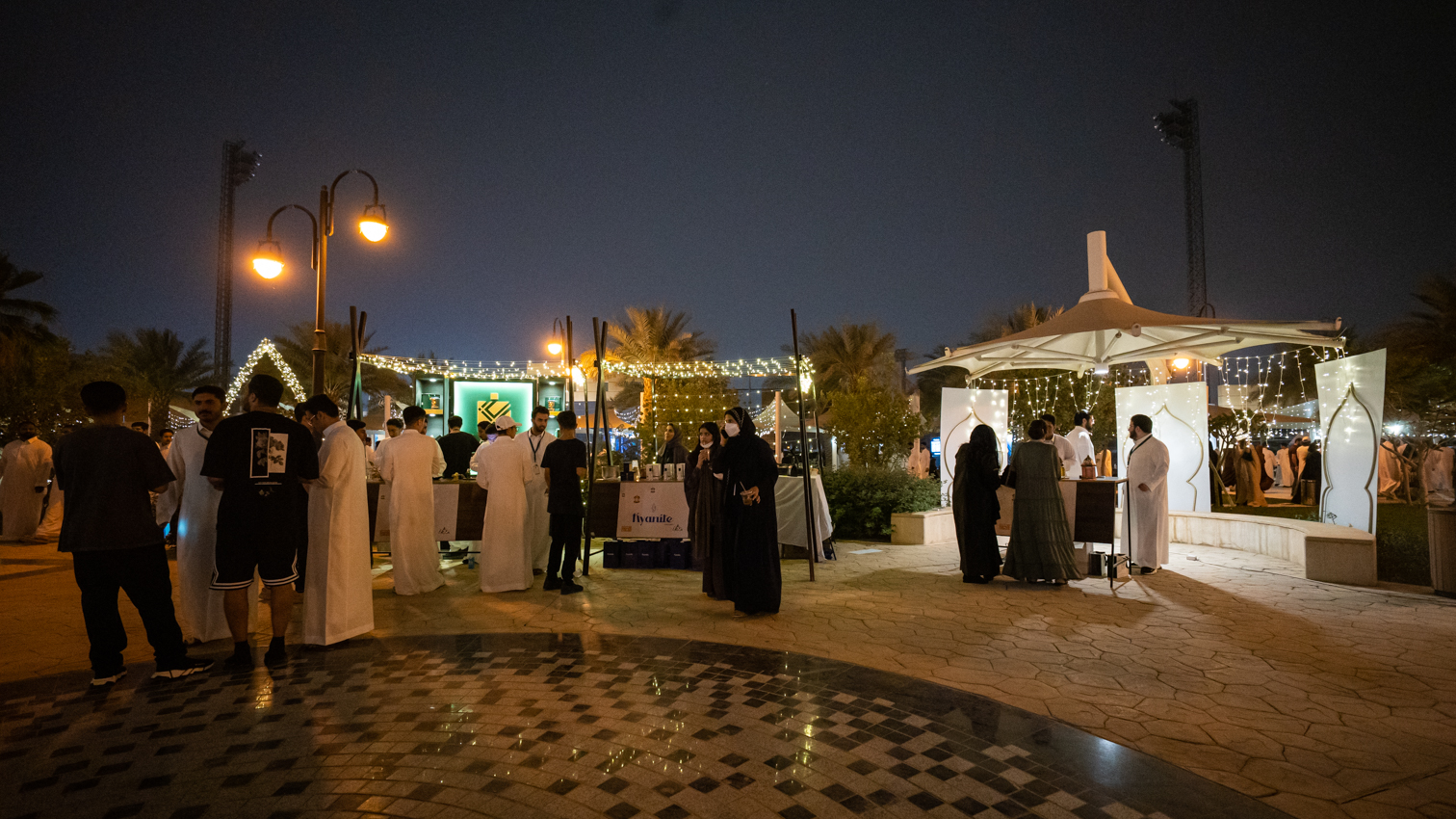 assess the proposals for formation of new clubs and assist those that have merit
conducts surveys and questionnaires on the current activities and events to gauge the level of the satisfaction on recent club activities
coordinates seminars and events that will aid in the overall development of students
helps students in putting together their own events to shine a light on their true potential
monitors and assists existing student clubs to enhance the quality and benefits of the clubs
organize events which showcases the innovation and creativity of the students
orchestrate events to showcase the heritage of the students, their nationalities, e.g. International Culture Day
presents strategies and programs to influence the students, positively
Miras (Female Campus Only)
The Miras Program is designed to be the official link between current PSU students and affiliations to provide students with opportunities to gain meaningful experience in their fields of interest. Miras is an Arabic word which means "flexibility and experience". The name was chosen to reflect its objectives.
The purpose of the Program is to provide students with work experience in a professional setting aimed to enhance their academic, professional and personal learnings.
These experiences enable students to apply classroom theory to real-world situations, gain awareness of the professional to real-world situations, gain awareness of the professional expectations in the work environment, identify personal developmental needs and gain insight in their potential career directions.
If you face any problem, please feel free to contact us through E-mail (Miras@psu.edu.sa). Your Email should include an explanation of the nature of your problem along with your name and your student ID. Miras Portal: https://info.psu.edu.sa/pscw/miras/Default.aspx.
Lockers
Provide free lockers for students (Male Campus) to help them store their personal things. The lockers are offered at different sizes.
ID Cards
The ID cards allow the student to enter the University Campus in the evenings for recreational use, such as playing football, table tennis, basketball, and swimming. Additionally, Students must possess an ID card, in order to enter the final exams.
Letter of Student Affirmation
Letters of Student Affirmation are issued to students whether citizens or residents. The internal letters of affirmation are issued by the Dean of Student Affairs, and the external letters of affirmation are issued by the President.
Student Questions and concerns