PSU's Strategic Plans
Strategic Plan 4
PSU is preparing to launch its fourth strategic plan, the University is poised to build on its achievements and tackle new challenges. The plan's development is guided by a commitment to excellence, innovation, and a deep understanding of the needs and aspirations of the University's stakeholders. By aligning its strategic objectives With the Kingdom's Vision 2030, PSU is aiming to play a leading role in shaping the future of education in Saudi Arabia and the wider region.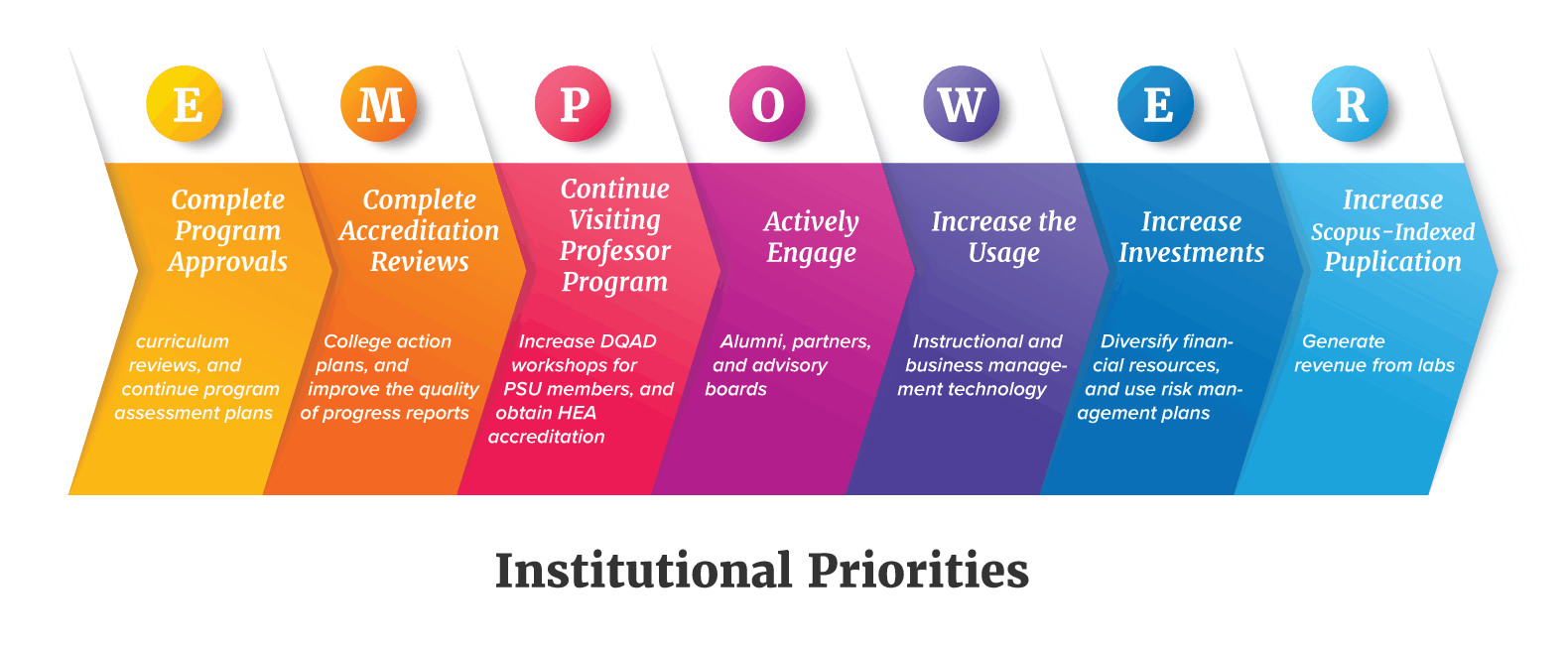 Developing SP3 (EMPOWER):
Prince Sultan University's 3rd Strategic Plan represents a period of sustainability and initiatives for the institution. It seeks to map out the strategic direction of the university for the academic years 2018 – 2023 and the role it will play in fulfilling the Kingdom's National Transformation Program 2020 and Vision 2030.
The plan features seven strategic themes under the acronym 'EMPOWER' which aim to support and strengthen every area of the organization toward the attainment of the values, mission and vision of the university. It reflects the thoughts of all our key constituents and the accreditation standards of the Education Evaluation Commission – National Center for Academic Accreditation and evaluation (EEC-NCAAA).
The Strategic Planning and Development Center would like to thank all those who contributed to the formulation of the plan (over the period October 2016 - December 2017), including the executive management, deans, chairs, directors, faculty, staff, students, alumni and employers in addition to members of:
Institutional Strategic Planning Higher Committee (ISPHC).
Institutional Effectiveness Committee (IEC).
Institutional Strategic Planning Steering Committee (ISPSC).
Evaluation and Academic Accreditation Center (EAAC) Deanship of Quality Assurance and Development (DQAD)
The Process / Methodology:
In accordance with international best practice, the strategic planning process has four major phases (see Figure 1).
Strategy Formulation.
Validation and Delivery.
Implementation and Monitoring.
Evaluation and Feedback
This approach is consistent with the Bryson strategic planning model (see Bryson's Strategic Planning for Public and Nonprofit Organizations, 2011).
Strategy Formulation
With regards to Strategy Formulation (Phase I), the planning team employed international best practice as a guiding principle
The PSU strategic plan formulation process was designed based on four integrated stages:
Wide stakeholder engagement and participation.
Multiple alignment and comparison.
Goal and Objective setting and revision.
Reference to the status of the 2nd Strategic plan 2012-2017 (LEADER)